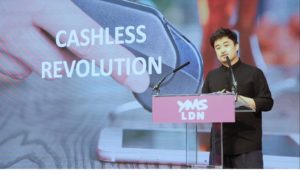 Tencent's WeChat has been an unprecedented success story on the China internet. But new platforms are undermining the dominance of WeChat, says marketing expert Arnold Ma, CEO of London-based Qumin, at  CBBC. Short-video medium Douyin is one of them.
CBBC:
Anyone doing business with China in recent years has been aware of the importance of WeChat, a one-stop-shop of social media allowing chats, promotions, shopping and payments to all be done on this single platform. And its importance can't be understated for most businesses in China. However, its popularity and prevalence has led some companies to forget everything else and replace a broad marketing plan with a simple WeChat plan.
According to Arnold Ma of Qumin, WeChat should be regarded as more of an operating platform than a social media channel. And when it comes to social, there's a new kid on the block. That kid is Douyin – a short video app, that was initially popularised by people lip-synching along to famous songs. Users then started showing off other talents, performing comedy sketches, and entertaining more generally; Douyin was soon mostly made up of user-generated entertainment content.
Over a billion videos are viewed every day by the 350 million Daily Active Users on Douyin in China – not bad for a company that was developed by a team of 8 over 200 days. Today more than half of its users are under 25 years old, making it predominantly Millennials and Gen Z users who are active on the site.
Many of the Western early social media platforms were desktop-based sites that have been adapted to mobile. But China – without a long history of desktop internet – leapt straight to mobile. It has hence been able to develop apps that are more suited to mobile, bypassing that desktop legacy that so many western sites have stuck with. Douyin's format of videos being presented in full portrait mode (as opposed to the horizontal mode that is more suitable for desktop viewing) has really captured a youth audience who are used to swiping, scrolling and short-form content.
Today, only 15 percent of teens now post to their WeChat moments feed says Ma. "When social media go mainstream, they lose the youth," he explains. "We can see how Facebook lost the youth when they went from niche to mainstream and we now are seeing the same with WeChat."
Arnold Ma is a speaker at the China Speakers Bureau. Do you need him at your meeting or conference? Do get in touch or fill in our speakers' request form.
Are you looking for more strategic experts at the China Speakers Bureau? Do check out this list.
Please follow and like us: