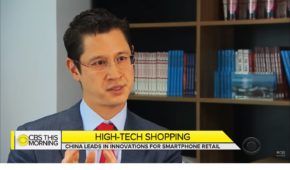 China is leading the innovation for retail and two to three years ahead of the US, says business analyst Shaun Rein, author of The War for China's Wallet: Profiting from the New World Order, to CSB News. Internet giants like Alibaba started on mobile and then turned to brick-and-mortar, unlike the traditional retail who try to force online upon their customers.
Shaun Rein is a speaker at the China Speakers Bureau. Do you need him at your meeting or conference? Do get in touch or fill in our speakers' request form.
Are you looking for more e-commerce experts at the China Speakers Bureau? Do check out this list.
Please follow and like us: