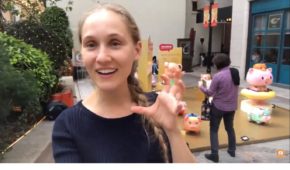 New retail is changing the mindset of both the Chinese consumers and the retailers, writes marketing expert Ashley Dudarenok. Some brands are finally getting the idea, but for traditional retailers, there is still a lot of work to be done, she says in the China Economic Review.
Ashley Dudarenok:
These days, Chinese consumers aren't as target-oriented and purpose-driven as they used to be when shopping in physical spaces. Since they can very quickly and easily find specific items while shopping online, they don't go to stores with the same mindset except for grocery shopping. They care more about exploring physical locations at their leisure.

When consumers go to a shopping mall, they don't normally go to buy specific brands. Instead, they go to have fun with their children, learn things, and have experiences like dining out or going to a movie. Despite this, physical stores haven't yet mastered the art of creating unforgettable consumer experiences that keep consumers coming back.

New Retail, when done well, does. But what is New Retail?

New Retail, which Jack Ma defined as "the integration of online, offline, logistics and data across a single value chain." uses technology to merge online, offline, logistics, big data, cloud computing, entertainment, news and social media into a seamless shopping experience. Ma introduced the term in 2016 along with New Technology, New Manufacturing, New Finance and New Energy.

Many of the technological advances and digital business approaches of New Retail were well underway in many other markets as far back as 2005 or earlier. Within China, JD.com and Tencent have their own versions of it which they call Boundaryless Retail and Smart Retail respectively.

It includes initiatives like omnichannel retail, experiential retail, integrated social media, click and collect, same day or one hour deliveries, unstaffed stores, fully automated warehouses and more. It enables people to, for example, purchase an item online at a discount using a code from an online influencer, pick it up from a smart locker the next day and then take it to a physical store 3 months later for repairs.

Internationally, brands and businesses that are excelling in this area include John Lewis, Waitrose, Amazon, Walmart, Carrefour, IKEA, Target, Tesco, eBay, Nike and Decathlon as well as smaller brands like Warby Parker, Orvis, Welden and Value City Furniture.

New Retail is consumer-centric and driven by data to improve a shopper's experience and save them time and money. However, it also improves operational efficiency and results in cost savings for the retailer.
Much more in the China Economic Review.
Ashley Dudarenok is a speaker at the China Speakers Bureau. Do you need her at your meeting or conference? Do get in touch or fill in our speakers' request form.
Are you looking for more consumer experts at the China Speakers Bureau? Do check out this list.
Please follow and like us: